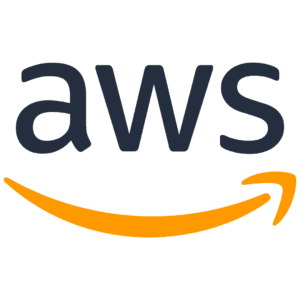 AWS Lake Formation is a service that allows you to quickly and easily create a secure data lake in a few days. This repository maintains all of your data in its original form as well as in a format that has been prepared for analysis. It is centralized, curated, and password protected.
How it Works 
Amazon Web Services (AWS) Lake Formation function makes it possible to set up a safe and sound data lake in a matter of days with minimal effort and time spent. This repository stores all of your data both in its raw form and in a format that has been optimized for analysis. Both of these versions of your data can be accessed at any time. It is centralized, curated, and password protected. By breaking down data silos and mixing different types of analytics in a data lake, you can potentially get insights and make better business decisions. This can be accomplished by merging multiple forms of analytics. At this time, the process of setting up and administering data lakes involves a number of procedures that take up a significant amount of time. It requires loading data from a wide variety of sources, monitoring the data flows, configuring the partitions, enabling encryption and managing the keys, defining transformation jobs and monitoring their operation, organising the information in columnar format, deduplicating redundant data, and matching linked records, among other tasks. After data has been deposited into a data lake, you need to provide granular access to datasets and monitor users' activity over time using a wide variety of analytics and machine learning (ML) tools and services.
Lake Formation makes it simple to create data lakes by simply specifying the data sources to be used as well as the access and security policies that will be applied to the lake.Lake Formation will assist you in moving the data into your new Amazon Simple Storage Service (S3) data lake, cleaning and classifying your data using machine learning algorithms, and securing access to your sensitive data with granular controls at the column, row, and cell levels once you have collected and catalogued data from databases and object storage. Customers and partners can search for and download datasets from a centralized data catalogue, which specifies accessible datasets and how they should be utilized.After that, in order to attain the necessary outcomes, they mix these datasets with a number of different analytics and machine learning tools, such as Amazon Redshift, Amazon Athena, Amazon EMR for Apache Spark, and Amazon QuickSight. The possibilities of AWS Glue to produce Lake Formation are expanded as a result of this.
Functionality
Lake Formation is a tool that provides assistance to you in the process of creating, securing, and managing your data lake. The first thing you need to do is locate any current data storage, whether it's in S3 or a relational database or a NoSQL database, and then you need to move the data into your data lake. The following step is to crawl the data, then catalogue it, and finally get it ready for analysis. Give your users the option to pick from a number of different analytics providers so that they can have secure access to their data through a self-service portal that they control. Data can be accessed through them not just by the AWS services that are shown, but also by other AWS services and third-party applications. The management of all of the responsibilities shown in the orange box falls under the purview of Lake Formation, as does the responsibility of integrating those responsibilities with the data repositories and services shown in the blue box.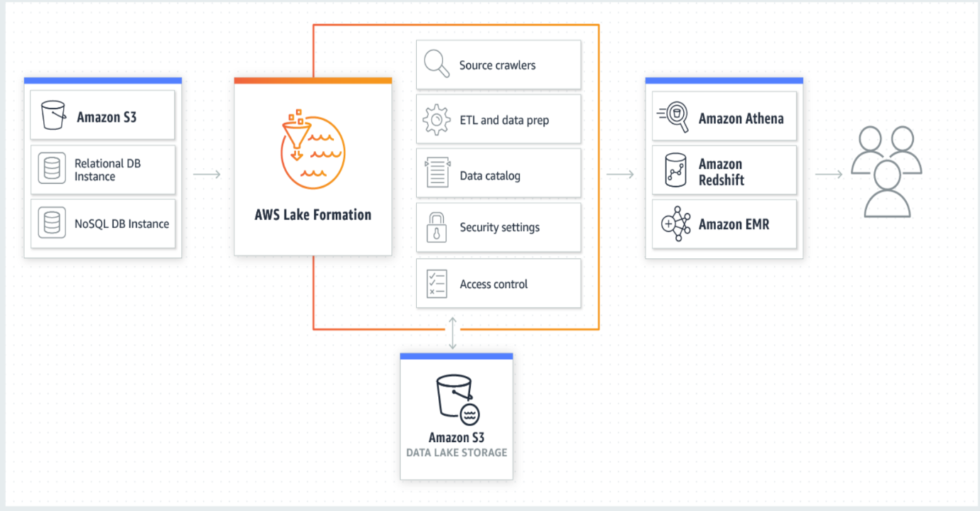 Create data lakes quickly: It is now much easier to move, store, categorize, and clean data if you use Data Lake Formation, which allows you to create data lakes in a much shorter amount of time than in the past. Lake Formation will automatically crawl all of your data sources and move the data into a new data lake that is hosted on Amazon S3. The Lake Formation service divides up the information stored in S3 into manageable bits and organizes it based on commonly searched for terms. In order to do analyses more quickly, the data are converted into formats such as Apache Parquet and ORC. Lake Formation also has the capability to deduplicate records and locate matching records, which are defined as two entries that relate to the same thing. This helps to improve the quality of the data collection as a whole.
Simplify the management of security:  Lake Formation allows you to define and enforce table, column, row, and cell access controls for all users and services that access your data. Consistent policies are implemented across all AWS services like Redshift, Athena, AWS Glue, and EMR for Apache Spark. This eliminates the need to manually configure policies for security, storage, analytics, and machine learning across all AWS services. This saves time and ensures uniformity in enforcement and compliance across all of the services that utilize it.
Self-service data access: You can create a data catalogue that includes all datasets and the people who have access to them using Data Lake Formation. Increased productivity is achieved by helping your users find the most relevant data for their analysis. Security is constantly being enforced by Lake Formation to keep your data safe for analysis and research. They may now analyse many datasets in a single data lake using EMR for Apache Spark, Redshift, Athena, AWS Glue, and Amazon QuickSight. In addition, users can mix and match services without having to transmit data between silos.
What does the AWS Lake Formation includes
Import data from existing databases: When you provide the location of your current databases and provide your login credentials to AWS Lake Formation, the data is scanned. The metadata is stored in a central catalogue once the data is loaded. Lake Formation may import data from RDS or EC2 databases on Amazon's Elastic Compute Cloud (EC2) (EC2). You have the option of loading data in bulk or piecemeal.
Integrate data with other sources:Java Database Connectivity can be used to link Lake Formation to on-premises databases (JDBC). When you log into the Lake Formation console, you may select the data sources you want to import, as well as your login credentials. ETL procedures can be built using AWS Glue to import data from databases other than those listed here.
Import data from different AWS services: Data from different S3 data sources can be imported into Lake Formation in a semi- or unstructured form using the same way. An Amazon S3 bucket inventory should be performed initially. By specifying an S3 path, Lake Formation is able to read the data and schema included within the data. AWS CloudTrail, AWS CloudFront, Detailed Billing Reports, and AWS Elastic Load Balancing data can be organized using the data lake Formation function (ELB). Custom processes can also import data into the data lake using Amazon Kinesis or Amazon DynamoDB.
Organize and label your data: : When customers are looking for datasets, Lake Formation provides a library of technical metadata (such as schema definitions) that has been taken from your data sources. Lake Formation can crawl and read your data to obtain technical metadata (such as schema definitions). Custom labels can be applied to your data (table and column level) to denote elements like "important information" and "European sales data." Lake Formation allows users to search for data utilising text-based search over metadata, allowing them to find information quickly.
Data transformation: Transformations like rewriting date formats to guarantee uniformity are possible with the help of Lake Formation. In order to get your data ready for analysis, Amazon data lake Formation creates transformation templates and arranges the processes that will do so. AWS Glue is used to transform your data into columnar formats like Parquet and ORC for storage. When data is sorted into columns rather than rows, the amount of data that must be analysed is reduced. Custom transformation jobs can be built for your business or project using AWS Glue and Spark.
Enhanced partitions: Lake Formation optimizes data partitions in Amazon S3 to improve performance and reduce costs. Many unprocessed raw data files may be loaded into partitions that are too small (requiring extra reads) or too large (requiring no more reads) (reading more data than needed.)Your data can be sorted by size, time period, and/or other important variables using Lake Formation. The most frequently used queries benefit from quick scanning and distributed, parallel reads.
Enforce encryption: : Lake Formation encrypts your data lake with Amazon S3's encryption. AWS Key Management Service keys are used for server-side encryption in this solution (KMS). Using S3, you can utilize distinct accounts for the source and the destination regions to guard against malicious deletions of data in transit. By using these encryption capabilities, you can relax knowing that your data lake is safe and free to focus on other tasks.
Manage access controls: Lake Formation centralizes data access control for your data lake. Each of these components has its own set of security policies that you may customize to your liking. These policies apply to all AWS Identity and Access Management (IAM) users and roles. For Apache Spark, Lake Formation encrypts data in Amazon Redshift Spectrum and AWS Glue ETL.
Set up audit logging: A cloud-based Amazon data store CloudTrail provides detailed audit trails to monitor access and policy compliance. With Lake Formation, you can monitor data access across analytics and machine learning platforms. Which users or roles attempted to access what data and with which services are shown here. The CloudTrail APIs and console can be used to access audit logs, just like they can be used to access standard CloudTrail logs.
Regulated tables: Amazon S3 tables can be accurately injected with ACID transactions. All users see the same data because Governed Table transactions automatically resolve conflicts and mistakes. When querying Governed Tables, you should make use of Amazon Redshift, Amazon Athena, and AWS Glue transactions.
Data meta-tagging for business: You may identify data owners like data stewards and business units by adding a custom attribute to table properties. Adding commercial information to the technical metadata can help you understand how your data is being used. Amazon data lake Formation security and access controls allow you to set appropriate use cases and data sensitivity levels.
Allow self-service: Lake Formation enables self-service data lake access for a number of analytics use cases. Tables defined in the central data catalogue can be granted or denied access permissions. The same data catalogue is used by several accounts, organisations, and services.
Find data for analysis: Users of Lake Formation are given the ability to use text searches conducted online to search and filter datasets that are housed in a central data library. They can look for data by name, content, sensitivity, or any other custom label you set.
Combine analytics to gain greater insight: Athena for SQL, Redshift for data warehousing, AWS Glue for data preparation, and EMR for Apache Spark–based big data processing and ML can provide your analytics users with immediate access to the data (Zeppelin notebooks). If you point these services to Amazon Data Lake Formation, you will have the ability to effortlessly combine different analytical methodologies on the same data.
Pricing
Access controls based on databases, tables, columns, and tags are included at no additional cost with AWS Lake Formation. Governed Tables makes it easy to make accurate changes to a large number of tables while yet retaining a view that is consistent for all users. The storage of transaction metadata is required in order to manage concurrent transactions and to be able to roll back to an earlier table version. You will need to pay for transaction requests and storage of metadata. Before delivering the findings to apps, the Lake Formation Storage API does an analysis on the data stored in Amazon S3 and applies row and cell filters. This screening does not come at no cost.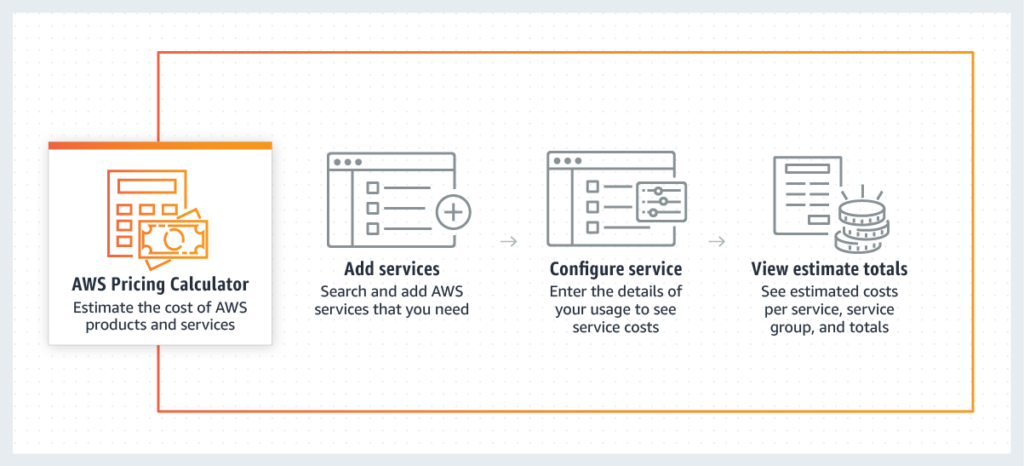 Text AWS to (415) 890-6431
Text us and join the 700+ developers that have chosen to opt-in to receive the latest AWS insights directly to their phone. Don't worry, we'll only text you 1-2 times a month and won't send you any promotional campaigns - just great content!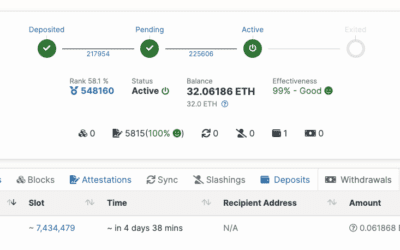 Step by Step tutorial on how to withdraw rewards from Ethereum staking on a Mac OS.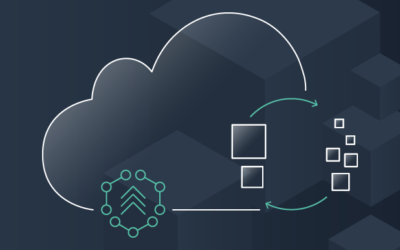 Cloud computing does offer many benefits to users who are just starting to put together applications and solutions. Having an existing solution will not preclude an organization from being able to take advantage of the cloud. Migrating those solutions to a cloud environment can prove to be tricky for users who haven't planned in advance.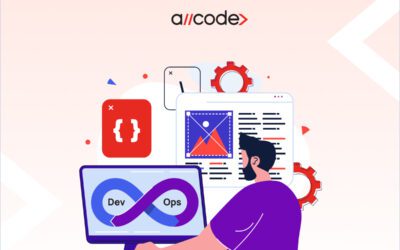 DevOps is a composition of best practices, principles, and company cultural concepts that are tailored to improve coordination in either development or IT teams in an organization. These standards help to streamline and automate the delivery cycle and allow teams to deploy applications sooner. In the case of arising issues, teams can respond faster and develop fixes sooner.