What a Data Lake Can Do
AWS Data Lakes are scalable and cost-effective solutions for storing and processing large volumes of data.  Data lakes can accept a variety of data points such as log data and clicks, Small and Medium Businesses (SMBs) can gain ample insight to the data they feed into a data lake, especially better decision-making to drive a business' growth by highlighting potential opportunities.  Correct application can see a great influx in customer retention, greater productivity, and more consistent business decisions.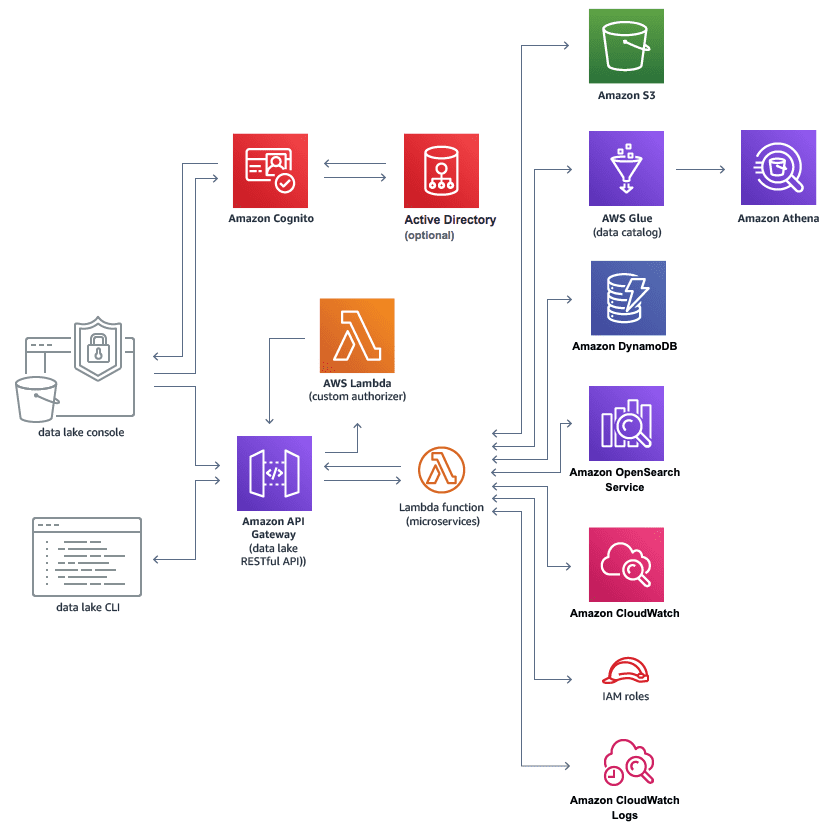 Use Cases
Customer Analytics
Trends in customer interests and reactions are hard to follow, but Data Lakes can help simplify that.  Data Lakes can take up customer data from CRM systems, web logs, social media platforms, and transactions to be analyzed with Amazon Athena, Redshift, or EMR.  These services will pick out customer behavior, purchasing patterns, and preferences either among groups of customers or single customers, and can summarily be used to improve customer retention through personalized marketing campaigns and adjust customer interactions.
Internal Analytics
Keeping tabs on inventory and logistics is critical to company operations.  Anything from inventory management to supply chains and production processes can be aggregated in a lake or multiple lakes.  Data Lakes can better provide information on bottlenecks and help improve efficiency or reduce costs.  With the real-time possibilities provided by AWS Kinesis, these can be tracked seamlessly with ongoing operations.
Marketing
Especially complementing the previous two cases, marketing can benefit much from properly allocating and processing data.  Whether it's using data to curate customer campaigns or drawing data from customer engagements across campaigns, ads, web analytics, and marketing platforms, marketers can make campaigns that are more likely to result in customer retention and future purchases from audiences.  Data Lake Analytics can highlight if a campaign was successful, identify groups of potential new customers, and plan better funding allocation for campaigns.
Fraud and Security Threats
Regardless of size or industry, companies can face fraudulent activity in one form or another.  Data Lakes are great receptacles for security logs, network, and user activity, and specific transactions.  Integrating a lake with AWS Glue or AWS Lambda can help find security threats and anomalies easier.  The security benefits that Data Lakes and AWS at large can provide will be essential for security compliance in some industries.
Internet of Things
Data Lakes can be set to collect and analyze data produced by IoT devices.  Along with the usual insights into device use, data collected can be used to further optimize IoT deployments or develop predictive maintenance patterns for devices.
Financial Analysis and Compliance
The finance industry can significantly benefit from storage methods for finance data from accounting systems, transaction records, and third-party financial sources, and the prevention of the aforementioned fraud threats.  In conjunction with Amazon's investment in machine learning technologies, finance can identify trends, automate reporting, and provide revenue forecasts.  Data Lakes governance also meets compliance requirements such as GDPR or HIPAA with refined access controls.
Healthcare
Storage is also a critical factor for the healthcare industry.  Being able to store and analyze electronic health records, medical imaging data, patient monitoring, and genomic data needs to be as efficient as possible. The analytics tools AWS Data Lakes can provide a faster and more accurate diagnosis, enhance health insights, improve patient care, and can even be applied towards driving research and development.
Content Analysis
Media and entertainment are constantly evolving and have no shortage of need to understand customer engagement.  To either produce better content or develop existing mediums, companies can benefit from analytics providing insight into what to change, what to recommend to specific customers on streaming platforms, or how to change monetization strategies.
Analytics and Storage
Data analytics has always been important to the health and well-being of various companies, but never before have the tools for automating and simplifying the analysis process been more readily available or advanced.  With how flexible and capable of working at different scales as AWS is, the Amazon Cloud is not just for the biggest companies of any industry.  Medium and even smaller businesses can hope to gain a significant return on investment from AWS through Data Lakes.  For small businesses looking for more information on data analysis, check out our other article on AWS' Think Big with Small Business and how a business benefits from analytics.