Centro Community Partners
Centro Community Partners (Centro) is a nonprofit organization that provides programs and resources to help underserved entrepreneurs start, develop and grow their small businesses. Centro also offers technology and curriculum to other organizations and trainers through their Entrepreneurship Suite.
Programs and Resources for Entrepreneurs
Centro believes in instilling socioeconomic change by providing opportunities for minority and lower-income groups in the form of training and access to resources.  They have made it their mission to foster an ecosystem much more available to not only make growth easier but to open up to groups otherwise trapped behind social barriers.  They have been able to support aspiring entrepreneurs through: 
Programs:

Centro offers different programs depending on the business stage of the entrepreneur, starting with the Entrepreneurship Bootcamp, Basic Entrepreneurship Program and Advanced Entrepreneurship Program. They are offered both in English and Spanish. In addition to participating in weekly workshops, entrepreneurs are mentored by business students who are enrolled in Centro's Small Business Advisor Program.
Centro Capital Hub:

The Centro Capital Hub helps entrepreneurs access capital through Kiva loans, small business loans and grants. Centro serves as the Kiva Hub for San Francisco and Oakland (and Alameda County) to help entrepreneurs access interest-free loans of up to $15,000, and works closely with local lenders to help entrepreneurs access larger small business loans of up to $250,000.
Centro Business Planning App:

Centro's free mobile app helps you write a business plan, designed specifically for individuals who lack a formal business education or experience. Available for iOS and Apple devices in English, Spanish, Portuguese, Russian, Chinese and Khmer.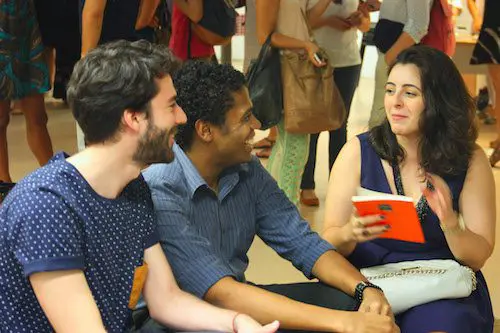 It is possible to deliver quality entrepreneurship training to aspiring and current small company owners in your own community through the use of proven and customizable  entrepreneurship training programs. All of the training programs are highly engaging and focus on helping entrepreneurs develop their ideas with the support of their trainer and fellow participants. You will have everything you need to enhance your present entrepreneurship training program or launch a new one with confidence.
Facilitators Can Benefit from the Use of Teaching Tools
Centro has developed an all-in-one solution for organizations and business coaches, where they can get the tools and training they need to support small business entrepreneurs. They can get access to our collection of online training resources and workbooks for facilitators and advisors, as well as to our App Portal that connects you to your client's Business Planning App accounts, to help you provide personalized support to your entrepreneurs.
Receive ongoing one-on-one technical support to assist you answer any questions about our online resources and platforms.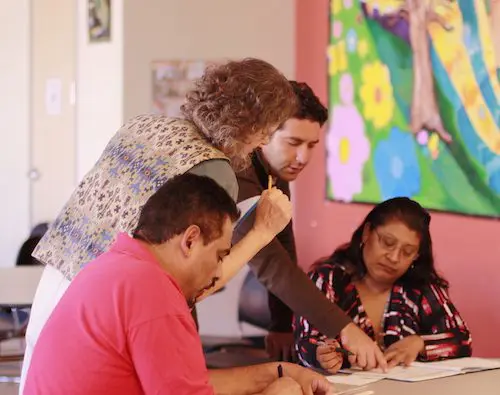 Centro Community Partners provides the best educational resources for entrepreneurs
With AllCode's support, Centro recently released a new edition of the Centro Business Planning App, which includes a new To-Do List, allowing you to track your progress and better comprehend the steps ahead!
Each section of the Business Plan has its own To-Do List, which can be seen by swiping left and right. Entrepreneurs should go through all of the cards, marking the ones that have already been completed.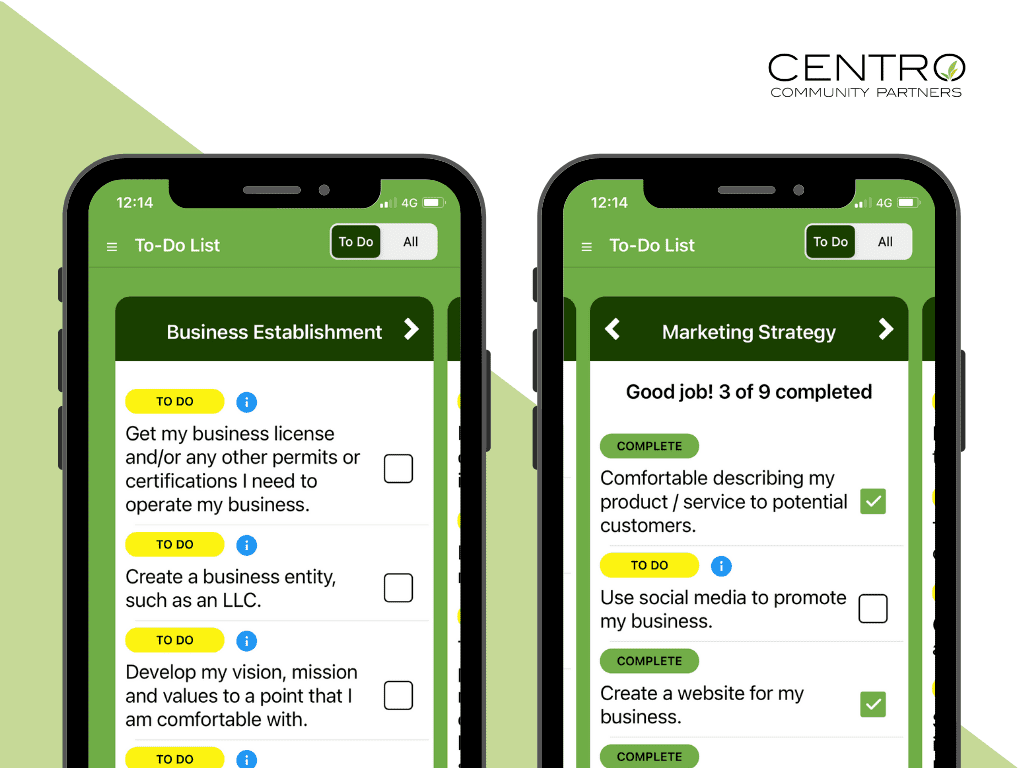 Every time entrepreneurs complete a new task, they can go to the To-Do List and check that box. Once this is done, they will notice how the yellow "To-Do" tag transforms into a green "Completed" tag. In the upper right corner, we've also included a toggle button that allows you to quickly switch between the "To Do" tasks view, where finished activities are removed, and the "All" tasks view, where you can see the whole list of completed chores.
It also includes an information icon, which will take you to a page where you may obtain further information and clarification on specific tasks.
A pop-up window will show from time to time, asking whether you would like to update your To-Do List and keep it up-to-date in order to ensure that you remain on schedule. In order to keep track of your progress, you can conveniently access the To-Do List from the menu at any time.
The Centro App provides training to low-income and minority entrepreneurs in order to assist them in the start-up, development, and growth of their businesses. It also connects entrepreneurs to resources and micro-lenders based on the location, business stage, how much they need, and the industry experience.
AllCode's Role in Centro 
Centro already had an application based on Xamarian in the works for this goal, but it had largely been in an unfinished state.  Furthermore, they wanted to immigrate the app to another platform.  Since they already had an existing application based on Ruby on Rails, we helped to migrate the application to use Ruby on Rails and Heroku instead with additional integrations with Salesforce.
Top-Down Redesign
The previous clients who had worked with Centro left much to be desired.  On top of just a basic facelift, we completely restructured the workflow of the application to be much more intuitive.
Google Authentication
Another feature we helped implement is alternate signup and login methods.  Users can also sign up with a Google account with functional authentication.
iOS and Google Play
The app was successfully pushed to both the iOS App and Google Play Stores, having been optimized for both platforms.  Additionally, links to their organization have been provided on both store pages.
Migration to Salesforce
We enabled Heroku Connect to synchronize data between Salesforce and the Postgre instances.  This was to help Centro keep track of newer signups on their platform.
When our previous mobile application developer left, AllCode's team came into a tricky situation where the rewrite of our mobile application was not complete. AllCode was able to determine the most expedient path to deploy a new version of the mobile application into the App Store and Google Play. Since our initial deployment to the stores, AllCode has continued to improve our solution by integrating analytics into our backend so we're now able to see who is using our mobile apps. Our iOS App now has a 5 stars in the App Store. We are very happy with AllCode's services.
- Naldo Peliks COO, Centro Community Partners"