DeFi stands for Decentralized Finance and is a blockchain-based financial system that doesn't rely on a central point of control, such as banks, brokerages, lenders, and other government regulated entities that facilitate financial transactions.
DeFi is similar to our current financial system but is peer-to-peer and relies on decentralized currencies called cryptocurrencies and decentralized services called DApps to facilitate transactions.
If the government doesn't control DeFi, then who creates the financial instruments involved in crypto?
Anybody can! If you have experience with decentralized technology, you can be at the forefront of shaping the future of DeFi. Check out this step by step guide for creating an Ethereum DApp.
What is a DeFi Coin (Cryptocurrency)?
DeFi Coins or DeFi tokens are digital assets that can be bought, sold, and traded using decentralized solutions called DApps. These tokens are created by the people for the people, without the government's upper-hand.
DeFi tokens are issued on the blockchain in an open-source environment, on modular frameworks, that are censorship resistant. These coins can be pegged to the US dollar, fluctuate based on supply and demand like a stock, or adjust automatically according to price fluctuations, also known as rebasing.
You can use cryptocurrency to pay for things or send to your friends. Trades go through the Bitcoin network, a decentralized network of independent nodes that validate each transaction.
DeFi apps (DApps) are financial instruments that enable you to buy, sell, and trade digital assets, similar to solutions we use today, such as PayPal or RobinHood, but just on a decentralized network. Because DApps run on the blockchain, no one person has control over the network.
Not all DApps allow you to buy, sell, and trade cryptocurrency - some enable you to lend and borrow. As you dive into our top 15 coins and DApps, you will discover many different kinds of DApps for many disparate use cases.
When a cryptocurrency is created, it's history of transactions are stored on a public ledger, making their records viewable by everyone. However, the transaction is only tied to a user's wallet and not their personal identity, giving people more discretion over their money.
With cryptocurrency, you don't have to depend on banks or brokerages to manage and facilitate your money. The blockchain enables you to maintain total control over your assets with digital wallets. These digital wallets securely hold your funds and can only be accessed with a private key that only you have access to.
On the blockchain, you can send peer-to-peer transactions to anybody within the network from anywhere in the world, skipping approval from banks and other financial services intermediaries.
Cryptocurrency gives you more control over your money and, in some people's minds, a promising hedge against inflation. We believe that the power of blockchain and cryptocurrency has just reached the tip of the iceberg and that there's a lot more in store.
List of the Top 15 DeFi Crypto Coins and DApps
Here is a list of our top 15 DeFi coins and solutions for 2021. There are a lot of ground breaking projects emerging in the DeFi space; therefore, if we missed a few projects, let us know in the comments and we will add them.

1. Polygon (MATIC)
Polygon, formerly known as Matic, is an interchain scalability protocol that provides a framework for blockchain networks that cannot connect because of network congestion and other issues. Polygon aims to bring the flexibility and scalability of altcoins with Ethereum's liquidity, security, and interoperability.

2. UniSwap
Uniswap is a decentralized financial protocol that enables you to buy, sell, and trade cryptocurrencies on the Ethereum blockchain through the use of smart contract technology. Because Uniswap is decentralized, users maintain total control over their funds, unlike a centralized exchange which makes users give up their private keys.
How it works is that people can become liquidity partners, meaning that they can pool their money with other individuals on the Uniswap platform, enabling transactions to take place. In exchange, as the liquidity provider, you receive a percentage of every trade that makes use of the liquidity pool that you held your funds in.

3. ChainLink
Chainlink is a decentralized oracle for blockchain that enables smart contracts on any blockchain to make use of off-chain resources, including verifiable randomness, tamper-proof price data, external APIs, and much more.

5. Decentraland
Decentraland is a platform built on Ethereum that combines blockchain and virtual reality to enable people to buy, sell, and trade digital assets in a virtual world setting. These assets can include anything from virtual land to NFTs.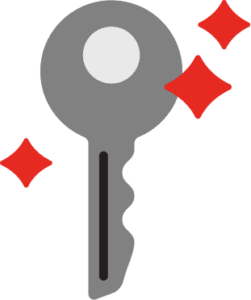 Pro Tip: Make your money work for you with yield farming. This is the process of lending your assets to be used in liquidity pools. In exchange for lending, you can earn rewards. Learn how to farm Matic on SushiSwap.

6. Terra (Luna)
Terra is a blockchain-based stablecoin protocol that leverages a native token, oracle system, and smart contracts to power their global payment system. Terra aims to reduce centralization in the market by enabling every blockchain to interact with their stablecoin.

7. MakerDAO
Maker is a Decentralized Autonomous Organization built on the Ethereum blockchain that's designed to reduce volatility for their own USD-fixed token, DAI. Maker enables users to generate Dai by leveraging collateral assets approved by "Maker Governance."

8. Kyber
Kyber Network is an on-chain protocol that aggregates liquidity from various sources into a single pool. Developers can integrate Kyber with their dApps, wallets, and websites to provide their users with an easy way to swap tokens.

9. Polkadot
PolkaDot is a blockchain protocol that connects multiple blockchains into a single network, enabling you to send data or assets to the blockchain of your choice. The network is designed to support two types of blockchains, the main network, called the relay chain, and parachains which are created by the user.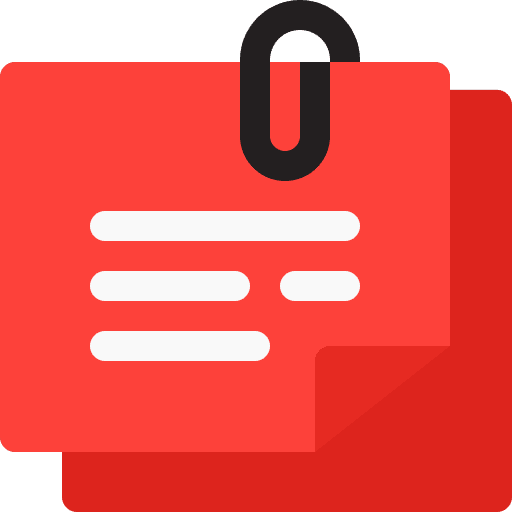 Note: The DeFi market cap is valued at around $93.8 billion as of May 18th, 2021. To see the marketing cap of today's market, check here.

10. SushiSwap
SushiSwap is an Ethereum-based decentralized exchange that is run by the community for the community. They use Automated Market Makers (AMM) to facilitate their trades, which makes use of smart contracts to generate and manage liquidity pools.
As of March 2021, SushiSwap launched a cross-chain bridge which enables them to interact and facilitate transactions with several other blockchains.

12. Aave Token
Aave is a community-backed blockchain protocol based on the Ethereum blockchain that enables people to lend and borrow various types of digital assets.

13. UMA
Universal Market Access (UMA) is a blockchain protocol that allows people to peg their token to the price of anything. For example, if you wanted to have your digital asset track the price of silver, you could use UMA, which would enable users to have exposure to silver without actually owning physical silver.

15. USDGold
USDGold is an Ethereum-based decentralized token with an integrated NFT Marketplace. On the USDGold platform, users can participate in Farms, which enable them to earn more USDGold just by providing liquidity to the USDGold pool.
How to buy DeFi Crypto Coins
There are several great exchanges and decentralized solutions that offer the ability to buy, sell, and trade your DeFi coins - including some that are listed above. On these platforms, you will be able to identify the price of the DeFi Crypto you intend to buy and set a target for when you would like your order to go through.
Summary
1. You will first need to buy your cryptocurrency using your fiat currency. You can do this on a centralized exchange like Binance or Coinbase.
2. Create a crypto wallet to send your cryptocurrency. We prefer MetaMask.
3. Transfer your funds from your Coinbase or Binance account to your MetaMask wallet.
4. Send your cryptocurrency to a crypto bank to earn interest.
In the example below, we will buy $CAKE from PancakeSwap. To buy $CAKE on PancakeSwap, you first need to gain access to the Binance Smart Chain (BSC) via MetaMask.
The BSC is a centralized version of Ethereum that operates on Binance's servers. On the Binance Smart Chain, the primary currency of the apps on Binance are the Binance Coin (BNB).To purchase BNB, you'll need to go to the Binance Exchange and purchase directly with your bank account.
Once you've acquired your BNB from Binance, you will transfer the BNB to your MetaMask wallet. You can copy your MetaMask address by clicking on the Account label as displayed in the image below.
Next, you'll transfer your BNB coin from the Exchange to your MetaMask account address.
After the BNB is deposited in your MetaMask wallet, you'll want to head over to PancakeSwap. PancakeSwap is the leading Automated Market Maker and yield farm on the Binance Smart Chain. For our purposes, we'll leverage PancakeSwap to exchange BNB for $CAKE.
On PancakeSwap, you'll need to configure your MetaMask wallet to get started. Click on the Connect button in the upper right hand corner.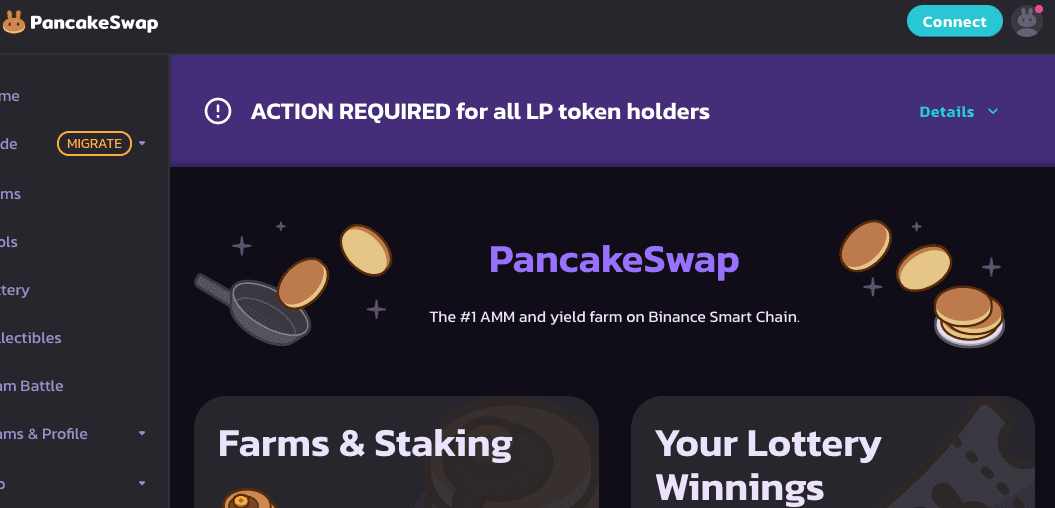 Next, click on the MetaMask icon to login with your MetaMask account.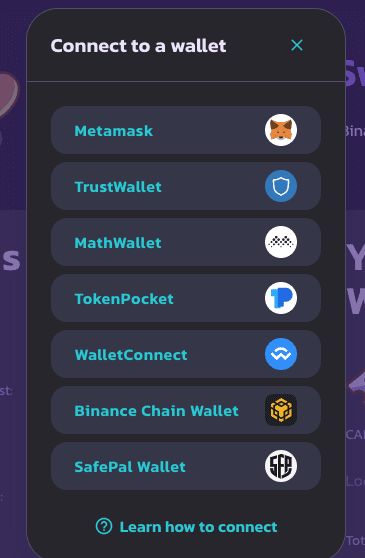 Once you're connected, your address on BSC will appear in the upper right corner.

Next, you will buy some $CAKE with the $BNB that you purchased from Binance. Navigate to the Trade\Exchange option on the left hand navigation bar menu. On the Exchange, view select $BNB as the From token and $CAKE as the To token.
When you hit the Swap button, you'll receive the "Confirm Swap" pop up. For this tutorial, we're going to exchange 0.0713 BNB for 1.14 $CAKE. Click on the Swap button to finalize your purchase.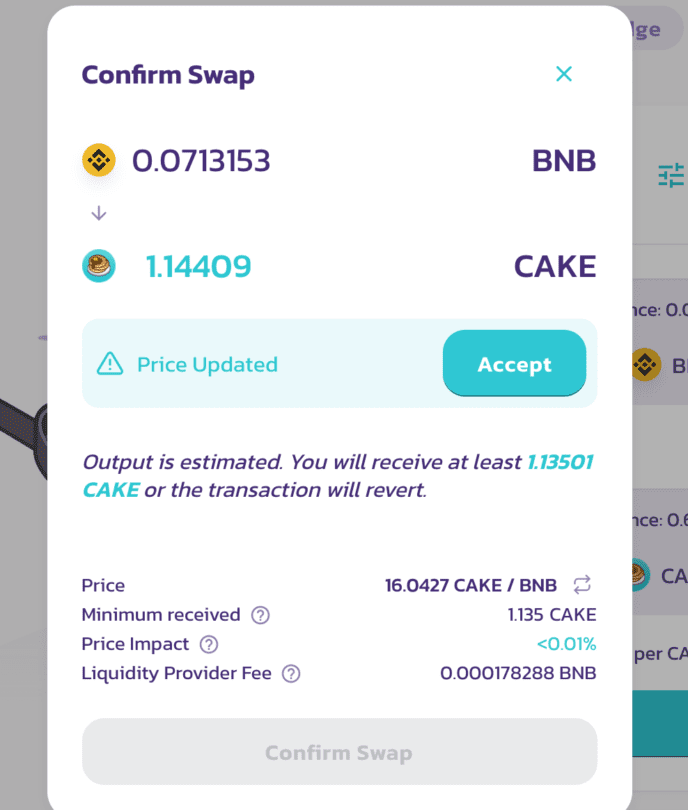 MetaMask will then open up and you will be asked to Confirm your trade. The amount of the transaction will be the amount of BNB that you're going to exchange plus gas fees.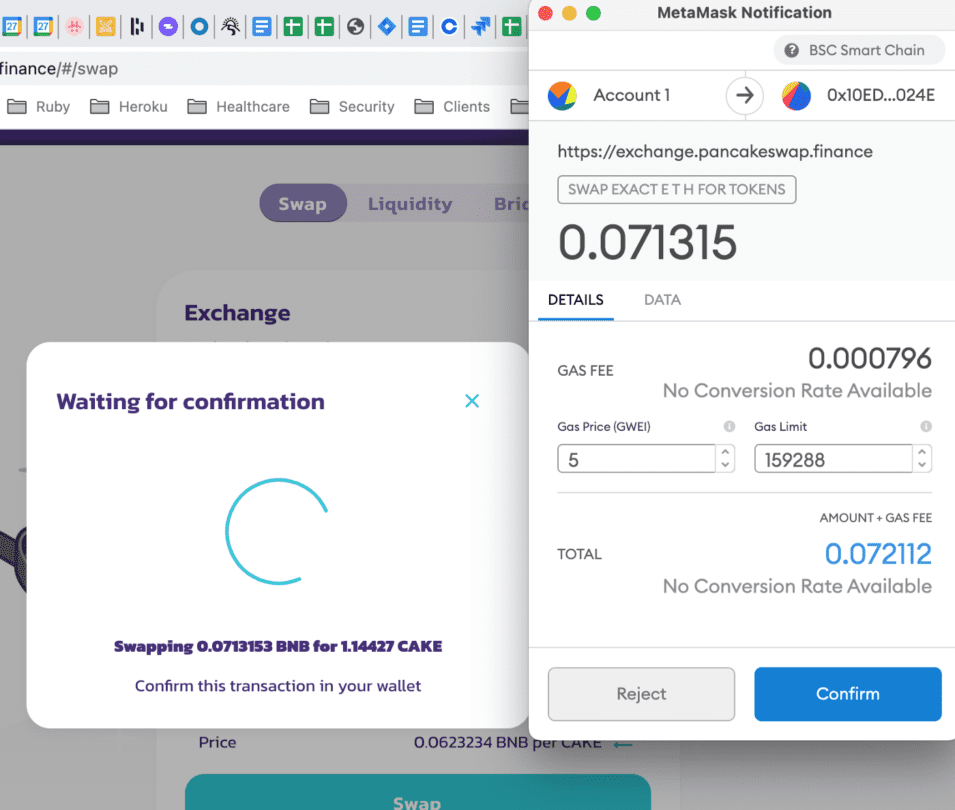 Click Confirm. You'll officially have the $CAKE in your MetaMask Wallet once the transaction is written to the BSC blockchain.
Unfortunately, you won't be able to see the $CAKE in your wallet right away. You'll need to navigate back to MetaMask. On the MetaMask Assets tab, you'll need to scroll down to the Add Token button.

The Add Token view will display in MetaMask. Click on the Custom Token, and paste the following address:
0x0e09fabb73bd3ade0a17ecc321fd13a19e81ce82 into the Token Contract Address.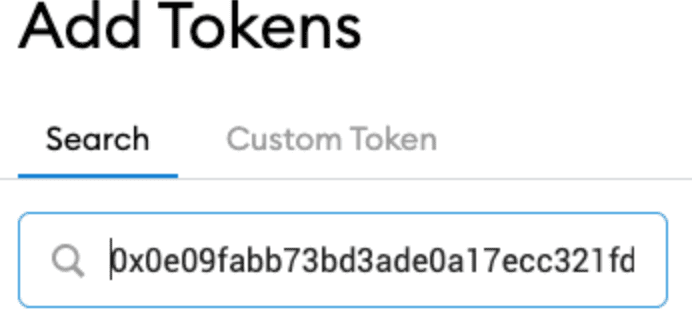 When you navigate back to the Assets tab, you should see the $CAKE.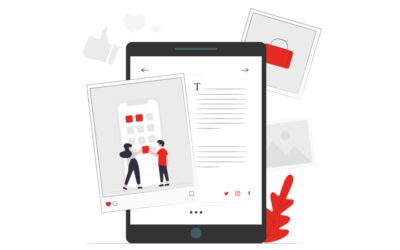 When thinking about programming languages, frameworks, and SDKs for mobile web app development, you should consider the front-end (UI) development environment as well as the back-end (server-side) development environment.