Marketing with Amazon Web Services
Utilizing the data analysis tools available through AWS, Pinpoint allows better customization of campaigns across SMS, email, in-app messaging, and voicemail.  Alternatively, this service can be applied to password security, real-time customer interactions, and providing order status data to customers.  Models can be trained with data that other users on AWS accumulated or data that the account has accumulated through past campaigns.  With all these data points gathered, campaigns can be automated to run at the right times.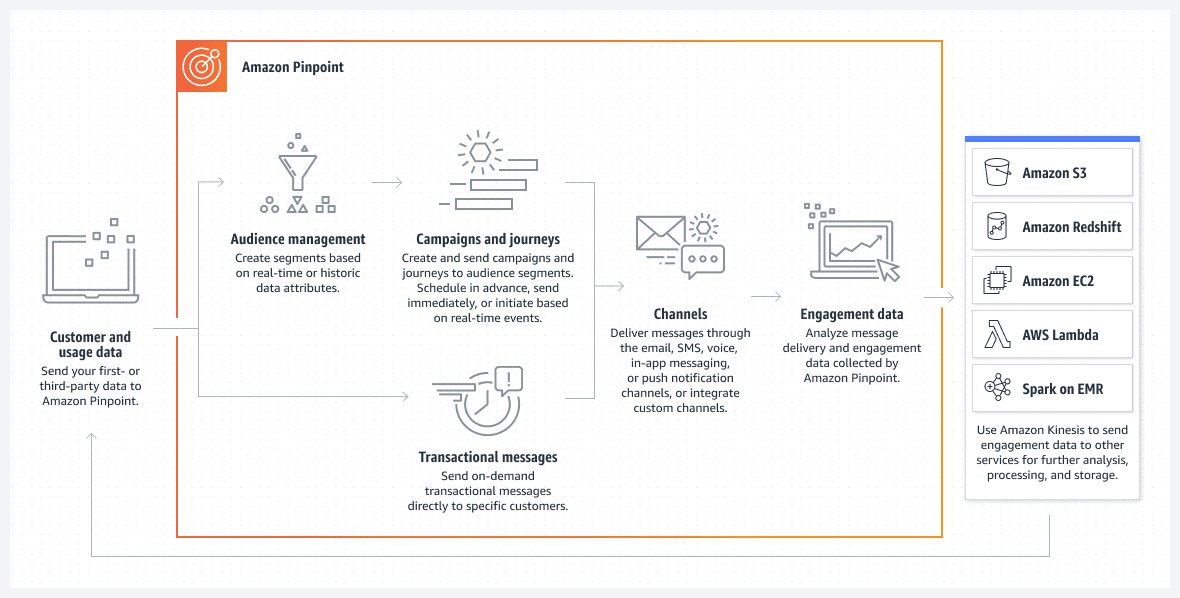 Segmenting the Audience
The first step with any marketing strategy is to segment audiences based on criteria such as demographics, past interaction history, and behavioral data into real-time or static lists.  Criteria can include information gathered from past campaigns.  By segmenting audiences into CSV or JSON files, users can be more easily targeted through specifically designed campaigns.
Multi-channel Marketing
SMS might be the most direct form of marketing currently with the highest rates of success, but there are still options and opportunities across other channels.  Along with more legacy forms of marketing such as email and voicemail, such methods are much cheaper and easier to use with options for in-app communications if the account has an application that runs on AWS.  With easy-to-understand UIs and click-and-drag functionality, even users with minimal coding experience can make the most of Pinpoint's console.
If the account is also running a mobile application off of AWS, there is the possibility for push notifications and in-app notifications with segmentation options for in-app purchases and more. AWS Pinpoint comes with SDKs (software development kits) for iOS, Android, and Unity to help better integrate messaging services with a mobile application.  Developers can create custom channels that can send messages through any application with an API.
Message Personalization
Even something as basic as using the customer's name can help them develop a fondness for a specific brand.  However, there is so much more that can be done with marketing than just filling in a few variables.  In order to generate repeat customers, that user data can still be used to find out what else the customer might be interested in.  Using a customer's purchase history, follow-up campaigns can be designed to in turn entice customers to buy similar products or products that are meant to work with the original purchase.  
There are extensive controls and options in place for how campaigns will work.  Pinpoint does provide a number of templates by default to use for campaigns to help start marketing sooner.  Features include options for scheduling, triggers, automation in response to specific keywords, and other actions that the customer might take.  Campaigns can be strung together to form journeys for customers, leading them on from interaction to interaction.
Analytics
Following the release of a campaign, Pinpoint keeps detailed analytics and tracks the performance of the campaign.  In real-time users can track the metrics of delivery rates, open rates, click-through rates, and response rates to evaluate how successful a campaign was.  These can then be reused in any existing analytics prior to conducting the campaign to make adjustments based on customer reception.  Especially in campaigns with intractable elements, users can track the frequency with how customers interact with the campaign elements.
More importantly, it's important to understand if a campaign failed and how.  Trends are made more visible with successive campaign launches and areas that could see improvement are highlighted.  Similarly, Pinpoint does point out possible issues in a campaign that could result in the message ending up in the customer's junk mail rather than their inbox. 
AWS Integration
Because it is an in-house tool, Pinpoint makes the most of other Amazon services such as Amazon S3, Amazon Redshift, and Amazon Kinesis.  All those data analytics will still require data storage or warehousing, and processing power for real-time analytics.
Accurate and Efficient Marketing Strategies
AWS Pinpoint is a service all about ensuring campaigns reach the customers and providing users visibility about how well those campaigns perform.  Any campaign strategy applied poorly will only hinder company performance.  For more help with marketing, check out the various benefits AWS offers through their partner network.